Battery Charging/lang-es
Cargando la Batería
  Esta página está supervisada por el equipo de OLPC.
Tipos de Baterías
OLPC está usando dos tipos de químicas para las baterías: NiMH y LiFePO4. Las baterías LiFePO4 permiten ser cargadas a altas temperaturas. Las baterías NiMH no pueden ser cargadas en una temperatura mayor de 45 grados C.
Las baterías LiFePO4 tienen etiquetas "Battery sample" (muestra de batería), y son mas livianas que las NiMH. Las baterías LiFePO4 tienen más capacidad debido a que pueden ser cargadas hasta su capacidad máxima. Para poder alcanzar 2000 ciclos con una NiMH tenemos que reservar capacidad para prevenir sobrecargas. Las sobrecargas reducen significativamente la vida de una batería NiMH.
Temas con la Carga de Baterías
Los reportes de campo de las unidades BTest-1 y BTest-2 nos han dado información sobre varios tipos de problemas con las cargas de las baterías. Los dos peores síntomas son:
Unidades que no encienden cuando una batería esta insertada aún enchufada al AC.
Baterías que no se reconocen/cargan.
Síntoma 1

Este es un problema de hardware con los sistemas BTest-1 donde un voltaje muy bajo en la batería impide que el sistema se encienda correctamente . Este sería el caso si:
- Usted no puede prender su sistema BTest-1 con la batería insertada aún si está conectada al adaptador AC.
- Inserta una batería en un sistema BTest-1 funcionando y éste se apaga instantáneamente.
En los sistemas BTest-2 no hay este problema y la unidad empezará apropiadamente.
Síntoma 2

Este es el resultado de un error en el firmware que puede corromper parte de la información guardada en la batería. Puede saber si éste es el caso si:
Inserta la batería y no pasa nada con la luz indicadora de la batería.
En algunos casos los dos síntomas pueden presentarse al mismo tiempo.
Recuperación de Baterías Muertas
El primer paso para recuperar (o resucitar) una batería es actualizar el firmware al B83 o posterior. Por favor, vea la imagen de auto-reinstalación o actualizando el firmware para los detalles de como se realiza la actualización del firmware.
Herramimientas adicionales que pueden ser necesarias:
Teclado USB.
Una vez que haya hecho la actualización, entonces el método exacto dependen del sistema que se tenga.
Sistemas BTest-1
Paso 1 

los sistemas BTest-1 no son capaces de cargar las baterías por 'chorrito' (trickle). Si su batería se ha descargado a un nivel muy bajo, entonces deberá ser cargada externamente. Para recuperar estas baterías por favor vea Carga Externa,
Paso 2 

Prosiga con el procedimiento Inicialización de la EEPROM.
Sistemas BTest-2
Paso 1 

Los sistemas BTest-2 pueden cargar por 'chorrito' (trickle). Por favor inserte la batería en un sistema BTest-2 y déjela conectada al adaptador AC por 6 horas. El testigo o luz indicadora de batería puede o no encenderse dependiendo del estado de la EEPROM en la batería. Después de que la haya cargado por 6 horas siga el procedimiento Inicialización de la EEPROM.
Paso 2 

Siga el procedimiento Inicialización de la EEPROM.
Inicialización de la EEPROM
El siguiente procedimiento es para recuperar baterías con información corrompida en la EEPROM. Para ello se requiere que el controlador embarcado (EC—embedded controller) en la laptop sea puesto en reseteado. Esto tendrá como resultado que tanto el teclado y los botones dejen de funcionar. Una vez terminado el procedimiento se tendrá que desconectar la XO de su alimentación AC y sacar la batería.
Si usted tienen un teclado USB, el ciclo de apagado no es necesario. Los teclados USB no son afectados por el EC y usted puede reiniciar escribiendo 'reboot' en el 'ok' prompter.
Procedimiento de inicialización de la EEPROM:
Descargue el programa 'batman.fth' desde http://dev.laptop.org/pub/firmware/scripts/batman.fth y guardelo en un USB en directorio raíz.
Coloque ese disco USB en la XO y préndala.
Cuando OpenFirmware bootee espere el siguiente texto
Type the Esc key to interrupt automatic startup
Cuando vea esto, presione una tecla cualquiera. Esto lo colocará en el prompter 'ok'.
Cargue el programa batman.fth escribiendo
fload disk:\batman.fth

Corra el programa de recuperación
bat-check-and-recover
Esto mostrará un mensaje indicando el tipo de batería que se tiene y si se ha detectado que la EEPROM ha sido corrupta o dañada. Lo siguiente es un ejemplo de lo que se muestra con una batería NiMH con su EEPROM corrupta.

ok bat-check-and-recover
Checking NiMH battery
Scaning
Battery EEPROM data corrupted... Fixing.
Done
ok

Y una sin corrupción o daños en su EEPROM

ok bat-check-and-recover
Checking NiMH battery
Scaning
Done
ok

En este momento el teclado de la laptop y los botones del panel no funcionan, con lo cual para apagar se debe desenchufar el AC y remover la batería. Si se está usando un teclado USB entonces usted puede tipear 'kbc-on' con lo que se reinicará el sistema.
bat-check-and-recover ?

Trate usando una memoria USB diferente, o experimente con formatos USB alternativos.
No response from battery

Vuelva al principio y revise los pasos anteriores y asegurese que no le faltó ninguno. Revise que la batería este efectivamente en la laptop. Pruebe sacando y poniendo la batería varias veces. Si se obtiene este mensaje repetidamente entonces tienen una batería que no es recuperable. Por favor contacte a alguien de la OLPC para conseguir un reemplazo.
Cargadores Externos
Los sistemas B1 tienen un problema de hardware que impiden que se puedan cargar baterías que se hayan descargado a niveles muy bajos. Para llevar la batería a un nivel de capacidad a partir del cual la B1 pueda manejar, se necesitan métodos externos.
ADVERTENCIA: Si usted no esta cómodo trabajando con electrónica entonces busque asistencia de alguien que si lo este. Aún con baja capacidad estas baterías pueden dar una cantidad de energía significativa. Hacer un corto entre los terminales positivo y negativo causará un flujo de corriente MUY alto capaz de quemar pequeños cables o terminales de metal. Los cuales pueden quemarlo o encender una llama. Aún más, el sobrecargar estas baterías las recalentará y posiblemente se prendan fuego. Sobrecargar o cortocircuitar los terminales deterioran la batería reduciendo significativamente su vida.
Herramientas especiales necesarias:
Una fuente de voltaje variable con límite de corriente.
Pequeñas terminales de metal para insertarlas dentro del conector de la batería. ( Red spade lug Estos conectores trabajan bien. )
Conectores de la Baterías
Una vez que se saca de la XO, la batería muestra tres terminales. El bus mono-cable es usado para programar la EEPROM interna, la cual guarda información sobre el estado de la batería y su identificación.

AZUL 

bus mono-cable

NEGRO 

terminal negativo

ROJO 

terminal positivo
Baterías NiMH
La batería XO NiMH tiene una capacidad de 3800 mAH. Tasas de carga lentas de C/10 (capacidad/10) son recomendadas para cargas externas sin un circuito de carga avanzado. El fabricante de las baterías nos ha dicho que cargas hasta de C/5 (760 mA) son aceptables para cargas externas.
Usando una fuente de voltaje DC de 3 ~ 15W, limite la corriente DC de salida a 760mA. Empezando con 0V, incremente lentamente el voltaje sobre la batería hasta hasta llegar a algo entre 6.5V y 7.3V. La fuente de poder debe estar con la corriente limitada. Intentar cargar con corrientes menores a 760mA está bien pero tomará mas tiempo. Por favor no incremente el voltaje a más de 7.3V aún si está por debajo del límite de los 760mA.
Cargue la batería hasta que el CCV (voltaje de circuito cerrado—closed circuit voltage) en los terminales de la batería llegue a 6.5V o más, antes de volver a insertarla en la XO. Esto se puede observar colocando la fuente de voltaje en 6.5V y mirando la corriente. Si la corriente es cero o casi cero, entonces se ha alcanzado los 6.5V.
Como no hay un control de sobrecarga externo con una fuente de poder externa DC, no cargue la batería más allá del limite de 7.3V.
Pendiente
Especificaciones de Carga para la batería de LiFePO4
Almacenamiento Prolongado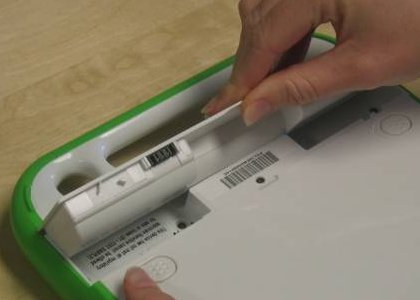 Si se planea guardar un sistema por varias semanas o meses, su mejor estrategia es cargar totalmente la batería y removerla de la laptop. Las baterías pierden carga con el tiempo (que tan rápido depende de la batería y su química), y el controlador embebido en la laptop, si bien drena cantidades muy pequeñas de energía en su estado de potencia bajo, drenará la batería mucho más rápido. Si bien los sistemas BTest-2 ahora son capaces de recuperar baterías totalmente descargadas (exceptuando aquellas que se anota arriba), es un proceso de carga por 'chorrito' (trickle) que requiere mucho tiempo.
Como usted puede ver arriba, dejar que una batería se descargue completamente, causará problemas cuando se recargue, que tan severo sea esto depende de las circunstancias.
La estrategia de sacar las baterías, se aplica para todos los equipos alimentados por baterías, desde linternas en adelante. Las baterías algunas veces se filtran. Y algunas químicas en baterías de litio (no la LiFePo) pueden llegar a un estado metaestable impidiendo ser recargadas.