OLPC Human Interface Guidelines/The Laptop Experience/lang-es
  Esta página está supervisada por el equipo de OLPC.
Experimentando la Laptop
Introducción
Muchos desarrolladores están familiarizados con la metáfora de escritorio (desktop metaphor) predominante en la experiencia de uso de las computadoras actuales. Esta metáfora ha evolucionado en los últimos 30 años, dando origen a distintas clases de elementos de interfaz que esperamos encontrar en todo SO: escritorio, iconos, archivos, carpetas, ventanas, etc. Y aunque esta metáfora tiene sentido en una oficina—y quizás también en el hogar—no se adapta muy bien a un ambiente colaborativo como el que la laptop de la OLPC busca. Por lo tanto, hemos adoptado un nuevo conjunto de metáforas que destacan la comunidad. Si bien existen ciertas correlaciones entre la IU de Sugar y los escritorios tradicionales, también existen claras diferencias, que son el tema de las siguientes secciones. Destacaremos el razonamiento detrás del cambio de perspectiva y detallaremos su funcionalidad con respecto a la experiencia general del uso de la laptop.
Metáfora de Zoom
La red en malla es una característica permanente del ambiente de la laptop y está representada explícitamente en la interfaz. Se usa el acercamiento para relacionar cuatro vistas, cada cual satisfaciendo un conjunto de objetivos particulares: Hogar, Grupos, Vecindario y Actividad. Usando atajos de teclado o controles en el Marco, los chicos pueden acercarse o alejarse de la comunidad en la malla.
Hogar
De todos los niveles de acercamiento, la vista del Hogar es la que más se asemeja al escritorio tradicional. Siendo la primera pantalla que se le presenta al chico al encender la máquina, es el punto de partida para la exploración tanto de la red de malla como también de las actividades y objetos personales. Desde esta vista, el chico puede alejarse primero a sus Grupos—tales como sus Amigos o su Clase—y más allá para ver la totalidad del Vecindario en la malla, o puede acercarse hacia la laptop y enfocarse en alguna Actividad en particular.
La interfaz de la vista del Hogar es minimalista. En el centro de la pantalla, el icono XO—en el esquema bicolor especificado por el chico—representa al chico al que pertenece la laptop. El anillo de actividades rodea al personaje, indicando aquellas en curso. El espacio que ocupa cada actividad en el anillo denota la cantidad de memoria que dicha actividad requiere, dando información visual sobre las limitantes de memoria y permitiendo una administración de recursos que no requiere información sobre la arquitectura subyacente. La mayor parte de la administración de actividades ocurre acá: comenzar una actividad privada, terminar una actividad y cambiar entre actividades.
Cuando se usa en conjunto con las Carteleras de Anuncios, la vista del Hogar es lo más parecido a la forma de tener cosas a mano en el escritorio de una PC típica: la tarea a entregar mañana, un dibujo sobre el que se está trabajando, la canción favorita, el recordatorio de tareas para hacer, etc.
Grupos
La vista de Grupos da un pequeño paso hacia atrás del espacio del Hogar, ampliando la visión para incorporar su círculo de amigos, sus compañeros de clase, y cualquier otro grupo al cual el chico pertenezca. Su grupo de Amigos representa esencialmente una lista visual espacial editable de sus cuates. Desde aquí el chico puede agregar o sacar amigos y posicionarlos, quizás con alguna lógica o no. El grupo Clase (Aula) se forma dinámicamente, e incluye a todos los chicos en la misma clase y al docente. Este grupo provee el espacio perfecto para trabajar y compartir con los compañeros, publicando proyectos para crítica, o encontrar lo que el docente publicó como tarea en la Cartelera de Anuncios.
Además de los distintos tipos de grupos especiales, el chico puede generar los suyos propios. Esto permite a un grupo íntimo estar al tanto de sus actividades personales, o un grupo de aspirantes a fotógrafos compartir sus fotos entre ellos. En el contexto del aula, esto provee el mecanismo de crear grupos temporales de trabajo para resolver ejercicios, o grupos más estables para proyectos más largos. Para crear un grupo, el chico puede buscar y seleccionar cualquier número de individuos de la red en malla. Cada uno de dichos individuos recibirá una invitación para unirse al grupo, y en caso de aceptarla su nombre se agregará al Grupo, donde podrá ver a y chatear con sus miembros, y publicar en la Cartelera de Anuncios del grupo. Si bien es una persona la que crea un grupo, el grupo no es administrado. En su lugar, la gente puede elegir retirarse de un grupo dado, y cualquier miembro del grupo puede invitar a otros. Cuando esto ocurre, todos los miembros actuales del grupo reciben una notificación de presentación, avisándoles del nuevo miembro. Este modelo abierto simplifica la interacción y favorece el aprendizaje de las dinámicas sociales naturales, en vez de imponerlas por medio de reglas y restricciones.
Los grupos tienen varias ventajas. Primero, permiten a los chicos ver a sus amigos, compañeros de clase, y otros grupos, al mismo tiempo que chatear libremente con ellos. Cada grupo dispone de su propia Cartelera de Anuncios donde sus miembros pueden publicar y compartir Objetos. Finalmente, todos los miembros de un grupo dado —los amigos de un chico, por ejemplo— reciben invitaciones cuando un miembro comienza una actividad en la vista de Grupo, haciendo de la colaboración algo implícito. Aún más, esta vista permite al chico ver cuáles son las actividades de su clase, amigos y otros grupos a los que pertenece, dándole así oportunidad de unirse a cualquier actividad no-privada. Es evidente como esta vista cambia el método usual de lanzar aplicaciones, permitiendo comenzar actividades compartidas o unirse a las existentes de modo directo.
Vecindario
Alejándonos un paso más, se llega a la vista del Vecindario. Aquí los chicos pueden ver a todos en la malla local. La intención es proveer una variedad de vistas a este nivel, cada una con un enfoque diferente: los individuos, las actividades actualmente en curso; etc. En la figura se muestra a los individuos agrupados en torno a sus actividades activas, brindando una representación visual sobre la popularidad de una actividad dada, ya que el tamaño del grupo es observable inmediatamente.
Si bien el Vecindario no provee ninguna información espacial o geográfica válida por el momento, sí permite percibir la geografía social de la malla y sus participantes. De igual modo que en la vista de Grupos, el comenzar una actividad aquí la abre implícitamente a cualquiera en el Vecindario. Si bien nadie recibe una invitación explícita en este caso, la nueva actividad aparecerá en la vista, con sus participantes agrupados alrededor de ella, de modo tal que cualquiera que lo desee pueda unirse a ella. Por supuesto, esto quiere decir que el Vecindario proporciona un espacio perfecto para explorar. Aquí uno puede buscar, localizar y sumarse a las actividades de su interés usando una tecnología poderosa y flexible de búsqueda, al mismo tiempo que interactuar y hacer amistad con otros chicos del vecindario que todavía no se conoce.
Actividad
Entrando desde la vista del Hogar, se le presenta al chico la vista de Actividad. Esta contiene las actividades donde realmente se lleva a cabo toda la creación, exploración, y colaboración. Es aquí donde Ud., el desarrollador, entra en escena, proporcionando nuevas e interesantes herramientas, ampliando la funcionalidad y favoreciendo nuevos tipos de exploraciones creativas.
Si bien lo multitarea se ha convertido casi en un estándar en el mundo los escritorios digitales, hemos decidido romper con tal modelo, adoptando una vista en la cual la actividad ocupa toda la pantalla, para focalizar la energía y atención del chico en una única tarea a la vez. Aunque uno pueda tener varias actividades en el anillo de actividades en un momento dado, sólo una puede ser la actividad activa (similar al foco en un sistema de ventanas). Varios factores contribuyeron a esta decisión: primero, si bien las laptops tienen una resolución extremadamente alta—200ppp—la superficie real permanece bastante pequeña—unos modestos 19cm (7.5") en diagonal—dejando poco espacio para tener múltiples actividades en pantalla; segundo, ya mencionado, se enfoca de manera natural la atención en una tarea determinada. El Marco detallado más adelante sirve como el material intersticial entre las actividades. Como una extensión del Diario, permite a los objetos moverse entre actividades.
Para una descripción más detallada de los aspectos referentes a la interfaz de actividades y los lineamientos para su diseño, ver la sección sobre Actividades.
El Marco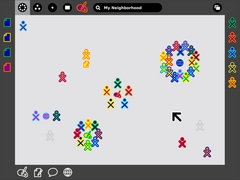 Siempre Disponible en la Periferia
Si observó las imágenes anteriores, puede que haya notado la ausencia de una barra de menú o algo similar permanente en la interfaz. Un elemento así reduce el espacio de la pantalla disponible para las actividades; y dado que la pantalla es un bien escaso, hemos optado por usar un marco —siempre en la periferia y fuera del campo visual— que contenga toda la información periférica que pueda necesitar un chico, en cualquier vista. Dado que el Marco permanece en todos los niveles de zoom, provee un espacio consistente para aquellos elementos de la interfaz que se apliquen en todas las vistas, incluyendo la búsqueda, recepción de invitaciones y notificaciones, un portapeles (clipboard), y los amigos con los cuales se está interactuando.
Glancing at the previous screen shots, you might have noted the absence of a menu bar or other form of persistent interface element. Such a persistent element reduces the screen space available for activities; since screen is at a premium, we have opted to use a frame—always on the periphery and just out of sight—to contain all of the peripheral information that a child might need, across all views. Since the Frame persists at all zoom levels, it provides a consistent place for those interface elements which apply to all views, including search, incoming invitations and notifications, a clipboard, and buddies you are currently interacting with.
Cuando se activa, el Marco se desliza sobre la vista actual, dando acceso a la funcionalidad deseada y desapareciendo rápidamente de la vista una vez que la acción solicitada finaliza. Si bien estas transiciones ocurren rápidamente, un parámetro de olvido evita el ocultamiento no intencionado del Marco, con la intención de hacer la interacción con este elemento de la interfaz algo totalmente natural.
When activated, the Frame slides in atop the currently visible view, providing access to needed functionality, yet quickly retracting from view once the task for which the child invoked it ends. Although these transitions happen quickly, a forgiveness parameter prevents unintentional Frame retraction in hopes of making interaction with this interface element completely natural.
Componentes del Marco y su Organización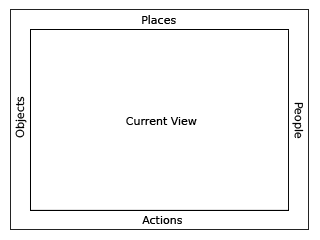 A vuelo de pájaro, uno puede considerar al marco como compuesto por dos partes: la izquierda, superior y derecha se usa para representar los sustantivos: cosas, lugares y personas. La parte inferior del marco representa aquellos elementos para los cuales se requiere de alguna acción: actividades, invitaciones y notificaciones. Más puntualmente, cada borde del marco está dedicado a personas, lugares, objetos y acciones.
At a high level, one can consider the frame in two parts: The left, top, and right sides of the frame represent nouns: things, places, and persons. The bottom of the frame represents those elements that require action: activities, invitations, and notifications. More specifically, each edge of the frame is dedicated to one of people, places, objects, or actions.
Personas
Como se mencionó con anterioridad, la presencia de otros en la malla define mucho de lo que es la experiencia de la laptop. Para que ello surja de la interfaz constantemente, el borde derecho del Marco da una lista fácilmente accesible de todos los individuos con los cuales el chico está colaborando en la actividad activa, representados por sus XOs bicolores. Ello acarrea varios beneficios. Primero, da un referencia rápida a la gente con la que el chico está trabajando, y que actualiza a medida que las personas se suman o van. Conforme se agregan nuevas personas, aparecen en la esquina superior derecha, y cuando se van, simplemente liberan el espacio. Adicionalmente, la marquesina (rollover) secundaria para estos objetos XO revela información biográfica acerca de ellos: nombre, edad, clase, intereses, hasta una pequeña foto. Esto quiere decir que el marco es un gran recurso para conocer nuevos amigos, pues ¿qué mejor lugar para conocerlos que en las actividades que comparten?
As previously mentioned, the presence of others on the mesh defines much of the laptop experience. In order to surface this at all times in the interface, the right-hand edge of the Frame provides an easily accessible list of all the individuals a child is collaborating with in the currently active activity, represented by their colored XOs. This has a number of benefits. First, it provides a quick reference of the people the child is working with, which updates as new people join and others leave. As new people arrive, they appear in the upper right corner, and as they leave they simply vacate their current location. Additionally, the secondary rollovers for these XO objects reveal biographical information about them: name, age, class, interests, and even a small photo. This makes the frame a great resource for meeting new friends, for what better place to meet them than in the activity shared with them?
Lugares
De todos los componentes del marco, el de Lugares es el más abstracto. Sin embargo, refuerza las metáforas sobre las que se basa el acercamiento. En la esquina superior izquierda residen los botones de acercamiento, que permiten al usuario conmutar instantáneamente entre las vistas de Actividad, Hogar, Grupos o Vecindario. Por claridad, los botones en la parte superior izquierda del teclado tienen iconos y funcionalidades idénticas.
Of the various frame components, the Places category is the most abstract. However it also emphasizes the metaphors that the zoom levels build upon. In the upper left-hand corner reside the zoom buttons, which can instantly transition the user among the Activity, Home, Groups, and Neighborhood views. For clarity, the upper left-hand function buttons on the keyboard have identical icons and functionality.
En el otro extremo del borde de Lugares reside el botón de la Cartelera de Anuncios. Nuevamente, este botón tiene su análogo en la parte derecha de las teclas de función del teclado. Detallado más adelante, este botón funciona como un interruptor para una capa auxiliar que puede proveer un chat contextual y un lugar donde compartir objetos. Opera dentro de la barra de Lugares porque actúa como un modificador en cualquier vista. En cierto sentido, agrega una capa adicional contextual a cualquier otro "lugar" en la laptop.
On the other side of the Places edge resides the Bulletin-Board button. Again, this button has an analogous key on right-hand side of the keyboard's function keys. Discussed later, this button acts as a toggle for an auxiliary layer which can provide contextual chat and a place to share objects. This button functions within the Places bar because it acts as a modifier to any view. In a sense, it adds an additional layer of context to any other "place" on the laptop.
Finalmente, pero no por ello menos importante, esta sección del Marco contiene el campo de búsqueda global.
Finally, though not less importantly, this section of the Frame contains the global search field.
Objetos
El portapapeles (clipboard) se ha convertido en algo indispensable para cualquier sistema operativo moderno. A pesar de ello, sus encarnaciones han cambiado poco, o nada, en décadas. El portapapeles tiene una "página" a la que se puede copiar, cortar y pegar, y en muchos casos esta página hipotética permanece invisible: para ver su contenido debe pegarse. Si bien esto no es estrictamente cierto (en Mac OSX, por ejemplo, un elemento al final del menú 'Editar' permite 'Ver el Contenido del Portapapeles'), la mayoría de los usuarios lo olvidan ya que tienen que buscarlo de manera explícita. Este modelo básico, si bien simple, usualmente se queda corto. Por lo tanto, la OLPC ha extendido el portapapeles tradicional, permitiendo al usuario acceder a una mayor funcionalidad sin aumentar la complejidad.
The clipboard has become a staple in any modern operating system. Nonetheless, its implementations have changed little, if at all, in decades. The clipboard has one "page", to which you can copy to, cut to, and paste from, and in most cases this hypothetical page remains invisible: to see what's on it, you've got to paste its contents. While this isn't strictly true (On Mac OSX, for instance, an item at the bottom of the 'Edit' menu allows you to 'View Clipboard Contents'), most users are oblivious about viewing its contents, as one must explicitly seek it out. This basic model, while simple, often falls short of many use cases. Thus, OLPC has extended the traditional clipboard, empowering the user with added functionality without increasing complexity.
En las laptops, el portapapeles toma la forma del borde izquierdo del marco. Esta región sirve como depósito temporal para objetos -un escrito, una imagen, una oración, un URL- facilitando así su transferencia entre las distintas actividades y, quizás más importante, entre los distintos niveles de acercamiento. Cualquier tipo de objeto que pueda almacenarse en el Diario puede de forma similar transportarse al portapapeles. Un chico puede poner un objeto en el portapapeles de varias formas. Primero, los atajos de teclado proporcionan una interfaz simple para copiar y pegar, tal como nos es habitual. Adicionalmente, y dado que los objetos soportan una manipulación directa, el chico puede simplemente arrastrar la foto, el escrito o la selección sobre el marco y así copiarlo, y posteriormente lo puede arrastrar fuera y pegarlo en otro lugar, tal como otra actividad, en un amigo, o en la Cartelera de Anuncios. A medida que se agregan cosas al portapapeles, se organizan temporalmente como una pila, siendo los mas recientes los que figuran en la parte superior izquierda del marco.
On the laptops, the clipboard takes the form of the left-hand edge of the frame. This region serves as temporary storage for objects - a paper, an image, a sentence, a URL - facilitating their transfer among activities and, perhaps more importantly, among the various zoom levels. Any type of object that can be stored in the Journal can likewise be transported via the clipboard. A child may place an object on the clipboard in a couple of convenient ways. First, keyboard shortcuts will provide an interface for simple copy and paste functions in the way already familiar to us. Additionally, since objects support direct manipulation, the child may simply drag a photo, file, or selection onto the frame in order to copy it, and may then drag it out to paste it in another location, such as within another activity, on a friend, or to a Bulletin Board. As items are placed on the clipboard, they are arranged temporally in a push-down stack, the most recent clipping appearing in the upper-lefthand corner of the frame.
Con la existencia de un portapapeles que contiene múltiples elementos, surge la necesidad de seleccionar el elemento activo que se quiere pegar. Dada la facilidad con la cual se aprenden los típicos atajos de teclado con los cuales copiar/pegar, cualquier operación de copiar posicionará automáticamente dicho objeto al tope de la pila, y como es de esperarse cualquier comando de pegado subsiguiente lo usa. Cuando no se estén utilizando estos atajos tradicionales, un simple clic sobre un objeto en el portapapeles lo seleccionará y lo señalará visiblemente como la nueva fuente. Adicionalmente las operaciones de copiar (incluyendo por arrastre -—drags) continuarán agregando elementos a la pila del portapapeles. Una vez que éste llegue a un límite predefinido, los elementos al final de la pila comenzarán a caer afuera, liberando así espacio para los nuevos. El usuario puede eliminar os elementos explícitamente de su marquesina contextual, y un atajo modificado de pegado para usuarios avanzados servirá tanto para pegar el elemento, como para eliminarlo de la pila al mismo tiempo.
With the presence of a clipboard which contains multiple items, it becomes necessary to add a means for selecting an active clipping as the source for any paste command. Since the usual copy/paste keystrokes will quickly become familiar to all, any invocation of the copy shortcut will automatically place the resulting clipping at the top of the stack, selecting it as the source. Additional copy commands (or drags) will continue to add elements to the clipboard stack. Once the clipboard reaches a predefined limit, the elements at the bottom of the stack will begin to drop off making room for the new ones. Elements may also be removed explicitly by the user via their contextual rollover, and a modified paste shortcut for advanced users will serve to both paste an item and pop it from the stack at the same time.
El portapapeles resultante tiene un comportamiento idéntico a aquellos presentes en otros sistemas operativos, al mismo tiempo que provee soporte para drag and drop, historial y vistas previas, así como funcionalidad avanzada para usuarios avanzados.
The resulting clipboard will behave identically to those on current operating systems, while at the same time providing drag and drop support, clipboard history, and previews, as well as advanced functionality for advanced users.
Acciones
El borde inferior del marco funciona principalmente como un iniciador de actividades, pero también acumula las invitaciones recibidas, así como las notificaciones. Como punto de partida para comenzar las actividades, esta parte del marco es relativamente simple. Siempre que se haga clic sobre una actividad, aparecerá una instancia dentro del anillo de actividades coloreada con el esquema bicolor del chico, y se enviarán automáticamente las invitaciones según corresponda. Por otro lado, en cualquier momento que un chico reciba una invitación, ésta aparecerá como un icono de actividad (con el esquema bicolor del XO que invita), claramente distinguible de los iconos monocromáticos de las actividades que residen en la máquina del propio chico. Dado que una invitación a unirse a una actividad no difiere en nada a comenzarla, las invitaciones se muestran apropiadamente de forma similar. El estado de la marquesina (rollover) para estas invitaciones permite a un chico aceptar o no la invitación, brindándole la posibilidad de dar una razón.
The bottom edge of the frame functions primarily as an activity launcher, but it also accumulates both incoming invitations and notifications. As a starting point for instantiating activities, this part of the frame is fairly straightforward. Whenever an activity receives a click, a colored instance of that activity appears within the activity ring in the child's own colors, and invitations are automatically sent as appropriate. On the other hand, anytime the child receives an invitation it appears as a colored activity icon (in the color of the inviting XO, of course), clearly distinct from the uncolored outlines of the activities which reside on the child's own machine. Since an invitation to join an activity has no functional differences from starting, the invitations appropriately indicate this by their similar form. The rollover state for these invitations allows the child to accept or decline the invitation, optionally providing a reason for declining.
Las notificaciones, el tercer aspecto del borde de Acciones del marco, funcionan de un modo sutilmente diferente. Si bien no representan una actividad a la cual el chico se pueda unir, llegan como mensajes de las actividades o del sistema, transmitiendo información importante sobre el estado de la actividad o el sistema en sí, como la carga de la batería o la potencia de la señal de red. Aunque difieren en poco de las actividades e invitaciones, estas notificaciones todavía requieren de alguna acción por parte del chico, y son una adición razonable al marco que provee un modo conveniente para accederlas desde cualquier vista. Así como en otros bordes del marco, las invitaciones y notificaciones se organizan cronológicamente, siendo las más recientes aquellas en la esquina inferior izquierda, para ser atendidas por el chico en el momento apropiado.
Notifications, the third aspect of the Actions edge of the frame, function slightly differently. While they don't represent an activity that the child can join, they do come as messages from activities or from the system, conveying important information about the state of the activity or system status such as battery strength or wireless signal. Though slightly different from activities and invitations, these notifications still require some action on the child's part, and are an appropriate addition to the frame which provides a convenient way to access them from within any view. Just as in the other edges of the frame, invitations and notifications organize by time, the most recent always in the lower left-hand corner, so that the child may handle them in a timely manner.
Métodos de Activación
El Marco tiene múltiples métodos de activación.
The Frame has multiple activation methods.
Esquinas Activas
Las esquinas activas son el método primario para la invocación del Marco. Como la Ley de Fitts implica, las esquinas son la parte mas fácil de activar con un cursor en una pantalla. Moviendo el cursor a cualquiera de las esquinas de la pantalla invocará de forma instantánea al marco. Desde una esquina, uno puede fácilmente desplazarse por el borde en búsqueda del elemento deseado. Dado que los recién llegados al borde tales como personas, objetos e invitaciones se insertan a partir de las esquinas, la última invitación, objeto, o participante siempre se encontrará a mano.
Hot corners serve as the Frame's primary invocation method. As Fitts' Law implies, the corners are the easiest part of the screen to hit with a cursor. Moving the cursor to any corner of the screen will instantly invoke the frame. From a corner, one can readily scroll along an edge in search of a desired element. Since newly added people, objects, and invitations insert from the corners, the latest invitation, clipping, or participant is always close at hand.
Tecla de Función
Además de una activación basada en el trackpad (o touchpad), la información en el Marco es fácilmente accesible desde el teclado. Una tecla dedicada tiene dos modos de funcionamiento: (1) una activación momentánea resulta en una activación o desactivación del Marco con cada pulsación; y (2) manteniendo presionada la tecla, el Marco aparece en la pantalla hasta que sea liberada la tecla. Este último método permite una vista rápida de las invitaciones entrantes y otros elementos visuales del estado del sistema por un breve período de tiempo y volver rápidamente a la vista activa y su actividad.
In addition to trackpad-based activation, the information within the Frame lies just one keystroke away. A dedicated key has two modes of functionality: (1) momentary presses act as a toggle, turning the Frame on and off with each press; and (2) holding the key down, the Frame will appear on screen until release of the key. This latter method provides a quick way to glance at incoming invitations or other system status elements for a brief moment and then return full focus to the activity view itself.
Notificaciones de Excepciones Específicas
Aunque raras, algunas notificaciones urgentes tales como niveles bajos de batería pueden activar al Marco sin necesidad de la intervención del usuario. Estas excepciones sólo provienen del sistema; ya que las aplicaciones no tienen los privilegios necesarios para ello, aunque puedan notificar o alertar al usuario por medio de notificaciones estándar.
Though rare, some urgent notifications such as low battery levels may override the Frame, automatically bringing it into view without user interaction. These overrides come from the system only; applications do not have privileges for override, although they may alert the user via standard notifications.
Carteleras
Dado que las laptops poseen una conectividad implícita por medio de la red en malla, una capa adicional en la IU ha sido diseñada para aprovecharla: las Carteleras de Anuncios. Literalmente, proveen un espacio para anunciar o publicar cosas.
Since the laptops have implicit connectivity via the mesh network, an additional layer of the UI has been designed to take advantage of it: Bulletin Boards. Taken literally, the Bulletin Boards provide a space for posting things.
El contexto es fundamental para la utilidad de las Carteleras en las laptops. Un botón en los Lugares del borde del Marco activa y desactiva a la Cartelera, y si bien solo existe un botón para dicho propósito, cada vista en cada uno de los niveles de zoom tiene su propia Cartelera. El alcance de quienes pueden acceder a una dada Cartelera se corresponde directamente con el alcance de los individuos que la vista representa. Por ejemplo, los ítems publicados en la vista de la Cartelera del Hogar solo pueden ser vistos por los chicos que los publicaron, efectivamente permitiendo un entorno de escritorio tradicional. De modo similar, cualquiera que se encuentre en la lista de Amigos puede ver las cosas que un chico a publicado en la Cartelera en la vista de Amigos, y todos los compañeros y su maestra pueden ver lo publicado en la Cartelera de la Clase; la Cartelera correspondiente a la vista de la red en malla provee un entorno para compartir con la totalidad de la comunidad de laptops. Aún más, cada actividad tiene su propia Cartelera, proveyendo un espacio para compartir objetos e ideas en torno a una actividad que no tiene un lugar en si misma.
Context is key to the usefulness of Bulletin Boards on the laptops. A button in the Places edge of the Frame toggles the Bulletin Board layer on and off, and although only one button exists for this purpose, each view among the various zoom levels has its own Bulletin Board. The scope of individuals who have access to a given Bulletin Board matches the scope of individuals that the view currently represents. For example, any items posted to the Home view Bulletin Board may only be seen by the child that posted them, effectively providing a traditional desktop environment. Likewise, anyone within the child's list of Friends may view things the child has posted to the Friends view Bulletin Board, and all of a child's classmates and her teacher can view her posts to the Class Bulletin Board; the Mesh view Bulletin Board provides an environment for sharing with the entire laptop community. Furthermore, each activity has its own Bulletin Board, providing a space for sharing files and ideas surrounding the activity itself that don't have a place within it.
Interfaz de Chateo Espacio-Contextual
WTF? What kind of title is this??
Como una capa transparente sobre cualquier vista, la Cartelera provee una interfaz de chateo espacial contextual. Esto quiere decir, y a diferencia de los tradicionales hilos al estilo de foro que organizan temporalmente, las burbujas de chateo pueden ser posicionadas libremente en la pantalla. Las discusiones se formulan en torno a áreas específicas debajo de ellas. Los comentarios tipo anotaciones abren la puerta a una gran variedad de interacciones conversacionales. En el dibujo del océano, por ejemplo, una conversación podría estar ocurriendo bajo la superficie, mientras que otros grupo de chicos discute sobre que tipo de aves vuelan por el cielo. En otra situación, un chico puede estar asistiendo remotamente a otro en lo referente a cómo utilizar una nueva actividad, destacando elementos específicos de la interfaz con descripciones detalladas sobre su funcionalidad. En una actividad literaria, chico o docente pueden estar revisando la historia de otro chico, corrigiendo errores ortográficos, gramaticales, y compartiendo ideas acerca de partes específicas sin necesidad de trabajar sobre la actividad debajo.
As a transparent layer above any view, the Bulletin Board provides a spatially contextual chatting interface. This means that, unlike traditional forum-style threads that organize temporally, chat bubbles may be freely positioned on screen. Discussions formulate around specific areas of the activity beneath. Annotation-style comments open the door to a wide variety of conversational interactions. In a drawing of the ocean, for instance, one conversation could be happening below the water's surface, while another group of children discuss what kind of birds fly through the sky. In another situation, one child could remotely assist another in learning how to use a new activity, pointing out specific interface elements with detailed descriptions of their functionality. In a literary application, child or teacher could proofread another child's story, correcting spelling mistakes, pointing out grammatical errors, and sharing thoughts about specific sections of the story without directly editing the work on the activity layer beneath.
Un Ambiente para Compartir
Además de los chats contextuales, las Carteleras proveen un espacio para compartir. Se puede publicar cualquier objeto en una Cartelera para ser mirado por otros y disfrutar y pasar a otros, promoviendo un compartir virósico. El ambiente para compartir es un elemento integral a cualquier vista.
In addition to contextual chats, Bulletin Boards provide a space for sharing. Any object may be posted to a Bulletin Board for others to look at and enjoy and to pass on to others, promoting viral sharing. The sharing environment is an integral element of all views.
En la vista del Hogar, por ejemplo, solo el chico al cual pertenece la computadora puede acceder a los contenidos de su Cartelera. Aquí, la Cartelera provee un área conveniente para el almacenamiento temporal de objetos y actividades, así como también las cosas convenientes para acceso rápido o cómodo como: la tarea para mañana, las fotos de la semana pasada, el libro que el chico esta leyendo, su juego favorito. De este modo, el escritorio tradicional que los niveles de zoom remplazaron encuentra otra encarnación por medio de la Cartelera de la vista del Hogar. La funcionalidad aquí descrita replica hasta cierto punto un escritorio tradicional. Cabe destacar que las burbujas de chat contextuales también están disponibles en la vista del Hogar, proveyendo un mecanismo para escribirse "notas-a-uno-mismo". La metáfora de la Cartelera resalta un espacio temporal y cambiante para dejar objetos, claramente diferenciado del lugar donde están almacenados. Esto puede evitar la habitual sobre-utilización del escritorio como el lugar primario donde almacenar todo, que limita la utilidad de ser una manera rápida de encontrar los objetos importantes en un dado momento.
In the Home view, for instance, only the child to whom the laptop belongs has access to the contents of the Bulletin Board. Here, the Bulletin Board provides a convenient area for the temporary storage of objects and activities, as well as those things kept around for quick access: tomorrow's homework assignment, the pictures taken last week, the book the child is reading, a favorite game. In this way, the traditional desktop that the zoom levels replaced finds its way back through the Home view Bulletin Board. The functionality described here mimics the traditional desktop to some extent. Note that the contextual chat bubbles are also available in the Home view, providing a mechanism for writing "notes-to-self". The Bulletin Board metaphor emphasizes a temporary and ever changing space for placing objects, distinctly separate from the space in which they are stored. This may prevent the common overuse of the desktop as the primary place to store everything, which limits its usefulness as a quick way to find the files that matter most at any given point in time.
En las vistas de Amigos y Red, la Cartelera sirve como un lugar donde compartir las cosas que un chico ha encontrado interesantes o creado con amigos o la red, respectivamente. Lo importante a recordar con respecto a compartir, obviamente, es que "Compartir este JPEG (o GIF o SVG o cualquier otro formato de imágenes) con Juan y Maria" se traduce en "Compartir esta foto (o imagen) con Juan y Maria." La metáfora de compartir funciona de modo mucho más natural que la transferencia de un archivo en los sistemas a los cuales estamos acostumbrados, dado que la transferencia de archivos solamente representa el aspecto técnico de la idea mas abstracta de compartir inicial. Por supuesto, los chicos pueden ver las cosas publicadas por otros. Aún más, como espacio comunitario, el compartir grupalmente ocurre de forma natural.
From the Friends and Mesh view, the Bulletin Board serves as a place to share interesting things a child has found or created with friends, and the entire mesh respectively. The important thing to remember with regard to sharing, of course, is that "Share this JPEG (or GIF or SVG or any other picture format) file with Bob and Sue" translates to "Share this photo (or picture) with Bob and Sue." The sharing metaphor functions much more naturally than the file transfer systems we're used to, since file transfer really just represents a technical implementation of the more abstract idea of sharing in the first place. Of course, children can also view the things that others have posted as well. Moreover, as a community space, group sharing occurs naturally.
Finalmente, el espacio compartido que provee la Cartelera toma un significado sutilmente diferente, pero muy poderoso a nivel de la Actividad. Nuevamente, y contextualmente a la vista activa, cada actividad tiene su propia Cartelera compartida. Publicaciones a este nivel proveen material de soporte para la actividad subyacente que otros participantes en la actividad pueden ver. (O si quieren, guardar para ellos mismos). De hecho, esto significa un montón, dado que cualquier objeto puede ser compartido de este modo, inclusive muchos objetos para los cuales la actividad misma no provee soporte para ello. Por ejemplo, si bien uno no podría pegar una canción dentro de un dibujo (no es un documento compuesto), la canción publicada en la Cartelera puede ser su inspiración. De modo similar, provee los medios de recolectar material relevante a la tarea en cuestión. En vez de tener cinco individuos pegar imágenes de un tiburón directamente en el dibujo, podrían pegarlas en la Cartelera para que otros puedan verlas y discutir sobre ellas antes de decidir cual será la base del dibujo. De este modo, las Carteleras proveen un espacio para juntar el resultado de una investigación y el material de soporte, manteniendo discusiones en torno a ellas y la actividad.
Finally, the shared space the Bulletin Boards provide take on a slightly different, yet quite powerful meaning at the Activity level. Again, contextual to the current view, each activity has its own shared Bulletin-board. Posts to this layer provide supporting materials for the underlying activity that other participants in the activity may view (Or, if they'd like, keep for themselves). This actually means a great deal, since any object at all can be shared this way, including many objects that the activity itself may not provide support for. For instance, though one couldn't paste a song inside a drawing (no compound document), a song posted to the Bulletin Board layer could provide inspiration for it. Similarly, it provides a means of collecting materials relevant to the task at hand within the activity. Rather than having 5 individuals each pasting images of a shark directly into the drawing, they could instead post them to the Bulletin Board for others to see and discuss before deciding which to use as a basis for the drawing. Thus, Bulletin Boards provide a space for gathering research and supporting materials, and holding discussions around both them and the activity.
Ver Código Fuente
Si bien las Carteleras proveen una capa de abstracción sobre una dada actividad, el botón de Ver Código Fuente le permite a uno mirar detrás de una actividad, eliminando las capas de abstracción con el fin de mostrar el código de base que la hace funcionar. Esta funcionalidad estará íntimamente integrada a la actividad Develop, incitando a los chicos ver, modificar y redistribuir variaciones de las actividades que usan. Por medio de la colaboración y el compartir, un jardín de actividades caseras comenzarán a desarrollarse, creadas por los mismos chicos.