OLPC Oceania
Congratulations SIDS: 2014 is the UN International Year for Small Island Developing States - SIDS !
Read all about it at http://www.sids2014.org
Remember: 2008–2017 Second United Nations Decade for the Eradication of Poverty
Remember: The 2012 theme: "Indigenous Media, Empowering Indigenous Voices", a topic to which OLPC aligns closely.
see also OLPC Friends, OLPC Australia and OLPC New Zealand
Welcome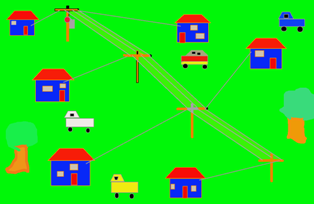 OLPC Oceania describes OLPC activities in the Islands of the Pacific (excluding New Zealand and Australia). Ethnologically, the region includes sub-regions of Melanesia, Micronesia and Polynesia. Geographically, it includes thousands of coral atolls and volcanic islands with small populations, grouped in 26 island nations. There are about 1.7 million children aged 6-12 in the region.
At the 2007 Pacific Islands Forum (PIF) Leaders Summit, the leaders of 21 nations noted "the potential utility of the One Laptop Per Child initiative and the need for education authorities … to assess the priority to be accorded to it in their countries as a tool for education and disseminating information to rural and remote communities…"
In 2008, One Laptop Per Child Inc., and the Secretariat of the Pacific Community (SPC) formed a partnership to introduce the OLPC concept in the region and conduct small pilots of the XO Laptop in schools in 5 PIF Countries: Nauru, Niue, Solomon Islands, Papua New Guinea and Vanuatu. (* The pilots were made possible by (1) a donation of 5000 XO laptops by OLPC worth US$2 million and, (2) the assignment by OLPC and SPC of human resources worth US$500k.)
In 2009-10, 17 Pacific Islands Forum (PIF) nations will introduce the OLPC programme in their schools. Countries include the 5 original Pilot countries plus the Cook Islands', Federated States of Micronesia, Fiji, French Polynesia, Guam, Kiribati, Republic of the Marshall Islands', Palau, Samoa, Tokelau, Tonga and Tuvalu.
---
OLPC is represented in the region by Regional Director, Michael Hutak, based in Sydney, and its deployment activities are coordinated by the Secretariat of the Pacific Community (SPC), head quartered in Noumea, with Dr. Jimmie Rodgers as Director-General. Additional guidance comes from members of the Pacific Islands Forum Secretariat (PIFS), with Mr. John Budden as executive secretary. SPC has appointed Ian Thomson as OLPC Programme Coordinator to manage the project.
In consultation with governments, donor partners and other key stakeholders, OLPC and SPC have developed a concept note to deliver "One Laptop per Pacific Child" to every child int he region in Basic Education by 2015. Download the Concept Note .
Assisting in the establishment of a "National Core Team" to own and coordinate direct each national effort is the first and most crucial task in setting up a successful and sustainable OLPC deployment.
Each project is developing its own Monitoring and Evaluation criteria, although moves are underway to establish regional (and indeed universal) benchmarks, as requested by multilateral and international donor organisations.
Related activity in the region includes implementation of a satellite-based Pacific Rural Internet Connectivity System (Pacific RICS) consisting of low-cost VSAT satellite broadband Internet that will provide a broad infrastructure to accommodate large-scale OLPC rollout. This initiative, launched at the 2007 Forum Leaders meeting in Tonga responds to a call by Leaders in the Pacific Plan Digital Strategy to bridge the digital and communication divide between the urban and rural and remote areas in the Pacific. Initial funding came from the Australian Government, however for its usefulness to be realized in the region's rural and remote communities, Pacific Island countries need to invest in roll-out programs at national levels. The RICs together with the Oceania OLPC initiative is a package for rural and remote areas in the Pacific, addressing both the transport of information as well as the content - 'Every RICS site is an OLPC Hub'.
Initial countries include Solomon Islands, Tonga, Kiribati, Vanuatu and Papua New Guinea.
To view the current status of progress within a leading site see the Solomon Islands or Papua New Guinea pages.
More: http://www.youtube.com/watch?v=2oVFKcjOVB8
Participating countries
Trial deployments have started, or as of January 2009 are in preparation at the following countries:
Links to these countries will provide detailed information on the project, pictures and progress and developments worthy of note. Each country will be encouraged to share experiences and knowledge by keeping their country page up to date.
Key contacts
The following people have been instrumental in the evolution of this project:
Dr. Jimmie Rodgers, Director General, Secretariat of the Pacific Community (SPC)
Dr. Barry Vercoe, OLPC Asia-Pacific Liaison
Michael Hutak, OLPC Regional Director, Oceania
David Leeming, Oceania OLPC Coordinator, SPC, and Technical Advisor, People First Network, Solomon Islands
Ian Thomson, RICS and Oceania OLPC Coordinator, SPC, [1]
Phil Hardstaff, IT Manager, SPC
Rangan Srikhanta, Executive Director OLPC Australia
John Budden, Economic Infrastructure Advisor, Pacific Islands Forum Secretariat
Pia Waugh, OLPC Friends, Technical support and volunteer coordinator
Tabitha Roder, testing and support, OLPC New Zealand
Nick DOIRON as per http://www.youtube.com/watch?v=2oVFKcjOVB8
Strategy
The team is working on all of the overarching strategies below. At the moment we are in a learning phase - the Oceania top-level strategy will be informed from out experience in the 8-country trials above. Each country will have to develop local interpretations of these strategies. Meanwhile, we hope to post information on our approach in the areas below, in the relevant country pages of this category.
Distribution
Training
Scaling up
Connectivity
Communities and volunteers
There has been a lot of discussions with potential donors for rollout of OLPC. Some donors have not yet accepted that OLPC is the right way to go. Here are some Objections to OLPC
How about the next 8 - 12 - 18 months?
00:50:00 How about the next 8 - 12 - 18 months? http://www.youtube.com/watch?v=2oVFKcjOVB8
How about evaluation? What's the gvt./society e.g. getting back?
cf. http://www.youtube.com/watch?v=2oVFKcjOVB8 - fast forward to 00:47:00 http://www.youtube.com/watch?v=2oVFKcjOVB8
Fiji is requesting and setting up an evaluation programme. Other places in Oceania: there's simply no resources for that. We rely upon evaluation programs from richer regions and the initial smart foundations on which OLPC is build upon.
Documents and Resources
The following is a collection of materials that have been produced or obtained by the project.
Document formats are ODT (use Open Office) or PDF.
Teacher Training
Please see the Teacher Training page.
Publications
List of publications and literature from OLPC Oceania can be found here
Oceania blogs
---